Beatrice Ward & Angelic Voices
HOLD ON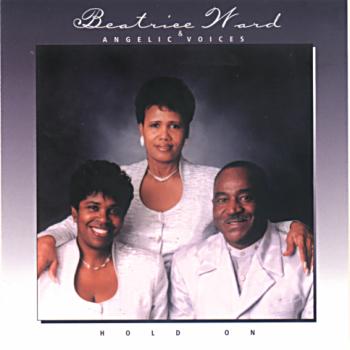 Track List
1.
Been There, Done That
2.
This Prayer's For Me
3.
I Love Him
4.
Hold On
5.
Sho' Nuff
6.
Close To You (Acappella)
7.
He Promised Me (Down On My Knees)
8.
Hold On (Instrumental)
9.
God Will Deliver On Time
BIO
A native of Lake Charles, Louisiana, Beatrice Ward leads one of the hottest Gospel groups out of Houston, Texas, today. Her Angelic Voices are husband, Frank Ward, and close friend, Shelia Chaptmon. Backed by a 3-piece rhythm section, Beatrice Ward & Angelic Voices put on a mighty powerful show.
Ms. Ward established her group in March of 1982, and has appeared on The Bobby Jones Gospel Show which airs on BET, and has shared the stage with national talents such as Shirley Caesar, Canton Spirituals, The William Brothers, Donald Lawrence, The Christianaires, Walter Hawkins, Slim & The Supreme Angels, Willie Neal & The Keynotes, and Lee Williams & The Spiritual QC, just to name a few.
Beatrice Ward & Angelic Voices now have 5 recordings to their credit. Their most recent, HOLD ON, recorded for Rampart Street Music, was released in February, 2003 and is already doing very well at many gospel radio stations in the southern region, most especially Hattiesburg, MS, Ruston, LA, Santa Fe, TX, Amarillo, TX, and Columbus, MS.
Her lyrics are simple but her message is strong. She is a dynamic and energetic performer and loyal to her calling.
In August 2002, Beatrice & her Angelic Voices attended WAAM's (Worldwide Association of Artists and Musicians) International Music Business Conference & Showcase. Their showcase was so fabulous that they were selected to participate in a 10-city tour of Italy during the Christmas Holidays and made many new fans who look forward to her return.
Stay Tuned. You have not heard the last from Beatrice Ward & Angelic Voices!
Home | Artists | About Us | Order | Links | Guests | Email
---
Website design & hosting by:
LAlink, Inc
contact the webmast